If you are anything like me you have had your Halloween costume ideas for this year planned out before Halloween even ended last year. Without a doubt one of my most favorite holidays of all time (aside from my birthday, cause yes, that IS a holiday!), I count down the days until October 31st, when I can dress up as anything in the world. However, I realize that a lot of people don't let Halloween consume their life like I do, and therefore many of you might have left finding a costume to the last-minute. So instead of freaking out or just going down to Target and picking up your everyday run-of-the-mill witch costume or kitten ears, I'm going to give you some very "punny" and easy last-minute costume ideas! Be warned, none of these are scary and a few of them may be stretching it a tad, but they are all chock full of wit that you're sure to get a few chuckles from.
Costume Idea #1
What you'll need: A boy's wig, preferably brown, but black could work also; A solid colored hoodie or sweatshirt; Pale make-up
Put on the wig and the hoodie, and apply your make-up so that you look sickly (white/gray face, dark-colored shadows under your eyes). Finally spray water on your face so it looks like you're sweating and voila!
Stranger: "What are you supposed to be?" You: "I'm Beiber fever. Cough cough"
Costume Idea #2
What you'll need: A large bra; An assortment of different spices (in their containers, obviously)
Step one: put the bra on. Step two: place spices (in their containers, obviously) in bra. Step three: be a Spice Rack. Wham bam, thank you ma'am.
 Costume Idea #3
What you'll need: A Hawaiian shirt and floral lei; Some boxing gloves; Face bandages
Stranger: "Dude, killer costume bro… what are you? You: *pow pow* "I'm Hawaiian Punch" Or if you'd rather not say anything simply carry around a jug of Hawaiian Punch. Anyone who does get that is a person you probably shouldn't be talking to anyways…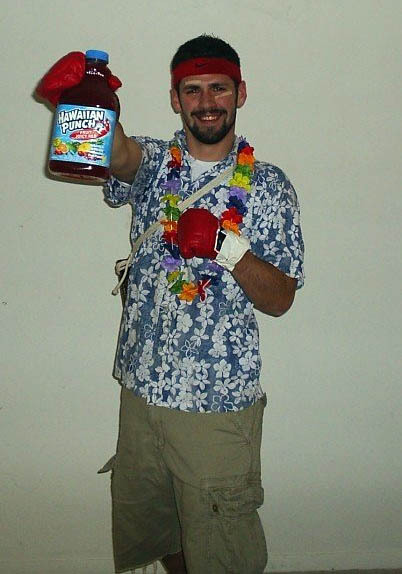 Costume Idea #4
What you'll need: Red hair (if you don't naturally have this then you FAIL and you can't do this! Just kidding, a red boys wig will work!); Cardboard/paper; String; Packages of bread
Use the string and cardboard or paper to make a sign you can hang around your neck. Then string the loaves of bread together so they too can be hung 'round your neck like a pretty bread necklace. Finally, write on your make-shift sign "Ginger Bread Man" and you'll be getting laughs all night long.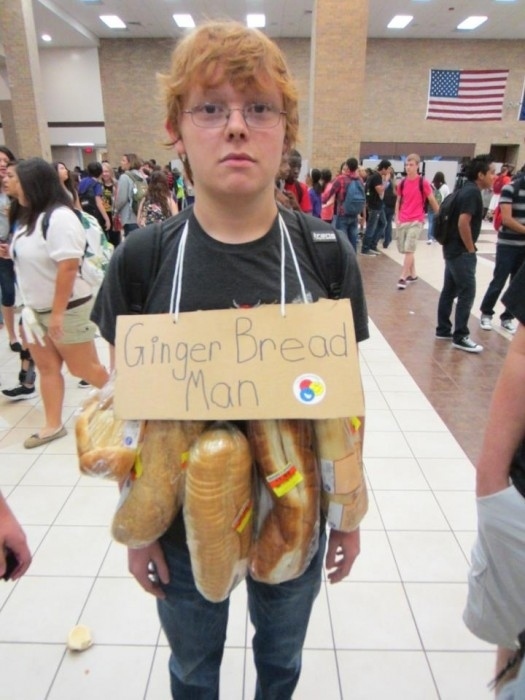 Costume Idea #5
What you'll need: A plain shirt; Fabric iron-on letters; Stick; Paper
Make a sign you can hold with the paper and stick and write "Ceilings are #1". Iron "I <3 Ceilings" on your shirt. Boom! You are officially a ceiling fan. Let the hilarity ensue.